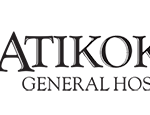 Atikokan General Hospital
Atikokan
Full-time, Internship, Contract
---
NOHFC Accounting Clerk Intern
Full Time -1 year contract
The successful candidate may have the opportunity for a 2nd year contract upon successful completion of the one year contract.
About Atikokan General Hospital (AGH):
Atikokan General Hospital is a 41-bed fully accredited hospital that offers emergency, acute care (including cardiac care), complex continuing care and long-term care services. We offer a full range of diagnostic services. A team of rehabilitation therapists provide inpatient, outpatient and home care services.
Job Description
The NOHFC Accounting Clerk Intern performs a variety of accounting functions using generally accepted accounting procedures in general accounting and/or accounts payable/receivable. Performs such related tasks as posting information to the GL, balances general or subsidiary ledgers, reconciles bank accounts, processes payments, compiles monthly department reports and Board statements, investigate/correct accounting errors, etc. The Accounting Clerk is responsible for all accounting and reporting to the AGH Foundation Board. The Clerk provides accounting support to the CFO and assists with MOH/LHIN reporting, budgets and audit working papers.
Qualifications
Recent graduate with a Diploma or Degree from a Community College or Canadian University in Business Accounting, Business Management Accounting or Bachelor of Accounting Science.
Must be the first full time position in this field.
Familiar with basic accounting procedures and general knowledge of GAAP.
Familiar with computerized financial systems. (A/P, A/R, Payroll, Inventory)
Have experience with Microsoft Office software programs.
Ability to adapt to a changing and challenging work environment.
Have good communication and interpersonal skills;
Be willing to work towards an accounting designation.
Ability to maintain the oath of confidentiality.
Ability to maintain satisfactory attendance.
*This opportunity is proudly supported by: Northern Ontario Heritage Fund Corporation