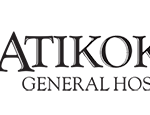 Atikokan General Hospital
Manager, Laboratory
Full-time Contract Position
Salary commensurate with experience
Reference # 2019-46
JOB SUMMARY:
This is a maternity leave position for at least one full year. Under the supervision of the Chief Nursing Officer, the Laboratory Manager plans, coordinates and supervises activities of laboratory personnel. This position is responsible for the day-to-day operations of the laboratory within the guidelines set forth by Senior Management and by IQMH Accreditation standards.
QUALIFICATIONS:
• Minimum qualification is Medical Laboratory Technologist with 6 or more years of relevant laboratory experience.
• A member in good standing of the College of Medical Laboratory Technologists of Ontario (CMLTO).
• Bachelor's Degree and/or at least one of the following are required:
o Quality Management Certification
o Advanced Certification in Medical Technology
o Health Care Management Certification
• Leadership and supervisory experience is required:
o Proven ability to identify, implement and manage to ensure continuous improvement in quality, safety, productivity and staff development
o Demonstrated ability to obtain the appropriate resources; work collaboratively with peers and support groups
o Demonstrated knowledge of quality management, continuous improvement, quality control, quality assurance and inventory control principles as applicable to hospital laboratory operations.
• Familiarity with lab accreditation and quality standards is required.
• Familiarity with Infection Control Practices, Procedures and guidelines.
• Familiarity with responsibilities under all Privacy legislation.
• Ability to work in the core Lab and take a portion of the call schedule is expected.
• Familiarity with the Occupational Health and Safety act.
Apply with resume and cover letter in confidence – quoting the reference number – by 4:00 PM Atikokan Time December 13, 2019 to the following:
NOTE: applicants who require accommodations in the recruitment process are encouraged to contact Human Resources for support using the contact information below.