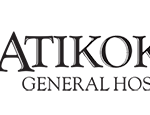 Atikokan General Hospital
Full-time, Permanent
Salary: $30.17 to $40.00 /hour
Relocation coverage up to $1000 and a signing bonus of $5000,
$2500 initially and $2500 after 6 months in the position
---
Medical Laboratory Technologist
Full time
Atikokan, Ontario is known as the "Canoeing Capital of Canada". However, there is much more to do in Atikokan other than canoeing. You can stay at a drive in resort on one of the many area lakes, or perhaps fly in to a remote outpost lake and go fishing. Do you enjoy the outdoors? Fishing and hunting? Beautiful scenery? A quiet peaceful small town like Atikokan might be just the place for you.
The Lab operates daily Monday to Friday. Laboratory staff are on – call evenings and weekends. The laboratory is staffed with 1 Laboratory Manager, 2 MLT's (when all positions filled), 1full – time MLA, and 2 casual MLA's. As we are the only Lab in Atikokan, we provide Lab services to hospital patients and to the community as a whole.
**Position located in Atikokan, ON. Relocation Assistance Available**
JOB SUMMARY:
Working under the supervision of the Laboratory Charge Technologist, the Medical Laboratory Technologist (MLT) will perform a range of tests – both routine and complex – on patients and clinical specimens. The MLT must participate in the on-call schedule of the Lab, in accordance with the Hospital's hours of operation.
QUALIFICATIONS:
A member in good standing of the College of Medical Laboratory Technologists of Ontario (CMLTO).
Successful completion of accredited coursework in Laboratory Sciences.
Knowledge and understanding of laboratory Quality Management systems, and of IQMH Lab Accreditation requirements.
Understanding of equipment calibration and maintenance protocols.
Able to work independently and in a team environment.
Understanding of infection control practices and procedures, as well as applicable legislation and regulations under the Occupational Health and Safety Act.
Demonstrated competency in record keeping.
Ability to fulfill the on-call requirements of the role.
Apply with resume and cover letter in confidence –