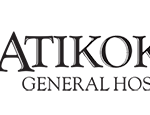 Website Atikokan General Hospital
Classification: Permanent Full-Time
Shift:               Regular shifts–variable hours
Rate of Pay:    $27.19/hour
Reference #:   2020-20
Department:  Extended Care Wing
JOB SUMMARY
Under the direction of the Director of Care, the Recreation Coordinator is responsible for planning, organizing and implementing therapeutic recreation and leisure programs and services for the residents of the Extended Care Wing. Recreation programs are to be appropriate and relevant to individual client needs, interests and abilities. The Recreation Coordinator is also responsible for co-leading and assisting the Executive Coordinator in managing the hospital Volunteer Program and for being a staff assistant for the Extended Care Wing's Resident Council.
QUALIFICATIONS
A post-secondary degree or diploma in recreation and leisure studies, therapeutic recreation, kinesiology or other related field from a community college or university; or enrolled in a community college or university in a diploma or degree program in such a field; OR currently enrolled in one of the above fields with completion of program within three (3) years of hire date.
Education related to the field of Gerontology.
Minimum of three (3) years experience working in a Long-Term Care with the geriatric population.
Certificate in Cardiopulmonary Resuscitation (CPR)
SKILLS & COMPETENCES
Excellent communication skills.
Excellent interpersonal and problem-solving skills.
Demonstrated knowledge of community resources.
Experience with mentoring and teaching team members.
Demonstrated ability to adapt to changing environments.
Experience in program development.
Experience with volunteer coordination and/or management of volunteer services, OR equivalent demonstrated management/leadership experience.
Must have the physical strength, flexibility, and endurance to perform the role.
Computer literacy for windows applications and documentation software.
Apply with resume and cover letter – quoting the reference number by
4:00 PM on September 23, 2020 to:
Stacey Wood – Director of Care (Nurse Manager)
Atikokan General Hospital, 120 Dorothy Street
Atikokan, ON P0T 1C0
Email: woods@aghospital.on.ca
We thank all those who apply, however, only those candidates selected for an interview will be contacted.