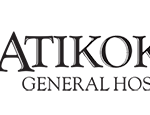 Atikokan General Hospital
Ontario
Full-time, Permanent
Salary: $33.63 to $43.92 /hour
---
Physiotherapist
full-time
Reference # 2019-09
This position is eligible for the Northern Allied Health Grant ($5000/year bonus)
*
_*
JOB SUMMARY:
As an integral part of the Atikokan General Hospital Rehabilitation Department, the Physiotherapist is responsible for the effective delivery of physiotherapy services to AGH patients and the clients of community partners. The Physiotherapist will assess clients, plan and carry out individually designed treatment programs to maintain, improve or restore physical functioning, alleviate pain and prevent physical dysfunction in clients.
Cooperate with clients, families, community members and members of the inter-professional team in the planning and delivery of programs for clients,
Performs physical evaluations based on generally accepted assessment procedures using examinations pertinent to the medical diagnosis.
Servicing the clinical caseloads that exist at the hospital, including: acute patients, long-term care residents, outpatients, Northwest LHIN Home and Community Care clients, Firefly clients and others.
Developing treatment programs based on purposeful,
Provide clinical recommendations and education to care providers
Education of and consultation with staff, agencies, and the community.
QUALIFICATIONS:
Graduate from a recognized Physiotherapy Degree program.
Current registration as an independent practitioner in Ontario with the College of Physiotherapist of Ontario.
Authorized Assistive Devices Program assessor (or eligible with willingness to register)
Able to work independently, with minimal supervision.
Physical ability to complete requirements of the job.
Working knowledge of office software, including client database programs.
Must have a valid driver's license and own transportation for client home visits.
NOTE: applicants who require accommodations in the recruitment process are encouraged to contact Human Resources for support using the following contact information.
Apply with resume and cover letter in confidence – quoting the reference number – Position will remain open until the vacancy is filled.